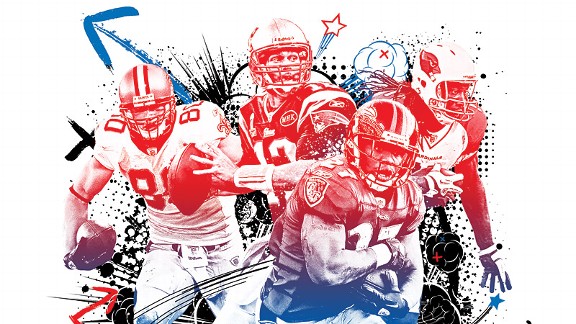 Now that the preseason of the NFL has begun, it is a perfect time to start researching for your Fantasy Football drafts at the end of the month. For the first time in years, I am also in a seasonal draft format in addition to the keeper/dynasty league. Seasonal drafts require totally different strategies and research.
The key to these leagues is when to draft each position. Traditionally, the first two rounds are reserved for running backs with a couple star quarterbacks and wide receivers sprinkled in. Then after locking up your top two RBs, you would move on to QB and WR before drafting kickers and defenses in the later rounds. However, the recent trends of RBs by committee and the pass happy NFL could force a change in this routine. In fact, four of the top six passing yard seasons in NFL history were last season. Meanwhile, only two RBs carried more than 300 times for over 1300 yards last season, compared to ten times just five seasons ago. Does this mean QBs are more valuable and therefore should be drafted earlier while RBs can slide to later rounds? Not necessarily.
Most leagues award six or four points to TDs thrown by a QB, compared to six for a regular TD by a RB or WR. Obviously QBs are going to be more heavily weighted since the top QBs score 40+ TDs a year while the top RBs/WRs get 15 TDs. That also means that average QBs outscore the top position players as well. Of the top 25 scorers last year, 19 were quarterbacks. Alex Smith (238 points) and Andy Dalton (248) scored roughly the same amount as top RBs LeSean McCoy (266) and Arian Foster (239). Even though only 12 QBs will be starting in FFL week to week, the lowest ranked one will still roughly throw 4,000 yards and 20 TDs. This means that QBs are less valuable than ever before.
The current draft rankings reflect this devaluing of the QB position. Only four of the top 21 players are QBs, and ten of the top 71. That means owners are still drafting their starting QB in rounds 6-8 with players like Matt Ryan, Big Ben, and Matt Schaub. Meanwhile the top 24 RBs and WRs, or two each per team, are gone by round 6. Since the record books are flying out the window, owners know QBs can be drafted with a high value later on.
If you project the scoring, you can see how scarce RBs and other positions are compared to QBs. The average projected point totals by position in round 6 mentioned above are 340 QB, 148 RB and 135 WR.
There is a 45% drop off in points between the RBs and WRs in the 1
st
round to the 7
th
round compared to just a 30% drop for QBs. Meanwhile the difference between the top kicker and the 15
th
kicker and the top defense and 10
th
defense is only 20 points, hence why those two positions are usually drafted dead last. Therefore you still need to grab a top RB early since the only ones left after the top 24 are the second fiddles in the committee (Jonathon Stewart, Peyton Hillis, CJ Spiller, Michael Bush, etc).
Despite all the gaudy record-breaking numbers last year, in fantasy football, the QB is still not the glamour position, since you can still make the title game with Colt McCoy or Rex Grossman as your QB as was the case in our league last year.